The Explorers Club, Northern California Chapter
---
Raiders of the Lost Treasures of the Ukraine
Dr. Alexander Leskov
Time and place
Date: Friday, April 28, 2000
Place: Sinbad's, Pier 2, The Embarcadero, San Francisco
Time: 6:30 PM cocktails, 7:30 PM dinner, 8:30 PM lecture
Cost: $45 ($50 if postmarked after April 18, 2000). Call Lesley at 510-527-7899 if you mail your check after April 18
Our speaker for April is Dr. Alexander Leskov, a distinguished member of the Ukrainian Academy of Sciences and former Vice Director of the Museum of Oriental Art, Moscow. He is an archaeologist with more than a quarter century of work on ancient Eurasian cultures, and is one of the world's leading authorities on the ancient art and archaeology of the Eurasian Steppe. His specialty is the Bronze and Iron Age and he has excavated over 400 burials and published sixteen books on different aspects of Scythian and late Bronze Age cultures. He was a consultant for the book The First Horsemen which is part of the Time-Life Emergence of Man series.
He has a special interest in the Scythians, nomadic warriors who dominated the sweeping grasslands from eastern Europe to Mongolia from the seventh to the third century B.C. The most elite of these warring tribes had a discriminating eye for good design and the wealth to indulge it.
By the fifth century B.C., they were important patrons of master goldsmiths living in Greek cities on the northern shores of the Black Sea. Since the Scythians believed, like the Egyptians, that they could take their wealth with them into the afterlife, we've been able to learn about their culture from their tombs. Thousands of these burial sites, or kurhans, punctuate the table-flat Ukrainian landscape, and they have yielded a wealth of treasures, including priceless masterpieces of solid gold.
Dr. Leskov will be speaking on the threats to the cultural treasures of the former USSR. With the breakup of the Soviet Union, funding dried up for science in general, and archaeology in particular. Today the burial mounds and other ancient sites are under a variety of threats. Mechanized agriculture flattens burial mounds and destroys artifacts. Looters rob graves and destroy sites. Neglect and lack of funding prevent researchers from conducting scientific digs and preserving the treasures of the past. The sites are disappearing faster than they can be studied. Entire chapters of humanity's history are being ripped out before our eyes. One example of artifacts that were nearly lost is the Pegasus drinking horn which Dr. Leskov excavated from a site which was scheduled to be plowed. In one more year the pieces would have been mixed with the soil and been lost to history.
Several of Dr. Leskov's finds are included in the current exhibit Gold of the Nomads, Scythian Treasures from Ancient Ukraine. The exhibit is the subject of the cover story of Smithsonian Magazine's March 2000 issue, and Dr. Leskov spoke at the exhibit's debut at the San Antonio Museum of Art, one of the sponsoring organizations.
With more than 170 artifacts - fanciful and attention-getting jewelry, hammered-gold headdresses, weapons and ritual objects - this is the most comprehensive exhibition of Scythian gold to date. The show opened last fall at the San Antonio Museum of Art and will move from Baltimore to the Los Angeles County Museum of Art on July 2 and to the Brooklyn Museum of Art on October 29.
NOTE: A joint meeting in September with the Southern California chapter to view the exhibit is under consideration
GOLD OF THE NOMADS exhibit schedule:
Walter Gallery of Art, Baltimore, March 5 to May 28, 2000
Los Angles County Museum of Art, July 2 to Sept. 24, 2000
Brooklyn Museum of Art, Oct. 29, 2000 to Jan. 21, 2001
Royal Ontario Museum of Art, Toronto, Feb. 18 to Apr. 29, 2001
Nelson-Atkins Museum of Art, Kansas City, May 27 to Aug. 11, 2001
Grand Palis, Paris, Sept. 25 to Dec. 31, 2001
Aerial Visionaries, April 11, 2000
Time: 7:00 PM

(Social hour from 6:00 to 7:00 PM)

Place: Phyllis Wattis Theater, San Francisco Museum of Modern Art, 151 Third Street at Mission

This event brings together in one place some of the finest creators of aerial images of our time and provides the attending audience a chance to interact with this unique group of individuals and to see them present their own work.

Death Valley from the air. Photograph © 2000 Herb Lingl
Confirmed and Invited Presenters include Astronaut and photographer Story Musgrave, Rusty Schweikhardt, and Michael Light. Honored for his outstanding work both as an astronaut and a photographer, Dr. Musgrave is currently working with Disney on the Return to Mars motion picture. Dr. Musgrave has a presentation of images he created in space and from aircraft, optimized to project outstanding detail with today's finest projection technology. Rusty Schweikhardt worked on Landsat and did the first multi-spectral imaging. Michael Light recently exhibited the prints he had made from the previously unpublished wealth of photographs taken on the Apollo missions. He will talk about digital photography and its relation to aerial imaging.
Location: The San Francisco Museum of Modern Art's Wattis Theater, well suited to large, high quality projection, with full audio visual system, including 35mm dissolve with Navitar lenses, 16mm projection equipment, LCD projection capability and much more.
About the American Society of Media Photographers: Formed in 1946; the leading association of media photographers in the United States. The San Francisco chapter has counted among its members such photography luminaries as Ansel Adams, Dorthea Lange and Imogen Cunningham.
For more information contact: Herb Lingl, 415/902-7077; fax: 415/771-5077; herb@aerialarchives.com
Checks made out to ASMP should be mailed to Herb Lingl, Aerial Photography, Hangar 23, Box 470455, San Francisco 94147-0455. The cost for The Explorers Club members is $30. Tickets will not be mailed; reservations will be confirmed at the door.
Exploring the Highest Sierra, Tuesday, April 18, 2000
In this presentation, Jim Moore will lecture on the topic of his new book, Exploring the Highest Sierra (Stanford University Press, 2000, 448 p.). We hope that the press production will have been enough by then that Jim will have copies for sale (and for book signing) at the meeting.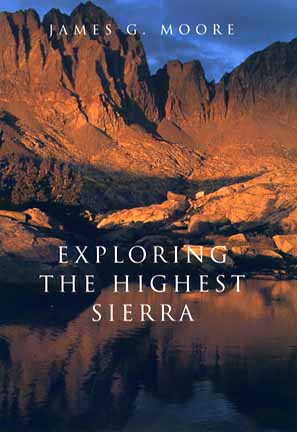 Jacket photograph: In an eastward view to the Sierra Crest above Dusy Basin, alpenglow colors the ragged mass of Mount Agassiz (13,891 feet, left) and the ridge of Mount Winchell (13,768 feet, right). Photograph courtesy of Jim Stroup. Jacket design by Janet Wood.
DINNER MEETING - Tuesday, April 18, 2000
Location: Stanford University
5:30 PM-Wine Tasting: Mitchell Bldg., first floor
6:15 PM-Dinner: . . . Mitchell Bldg., first floor
7:30 PM-Meeting: . . . Geology Corner (320 on the map) (not Skilling Auditorium)
see map

Anyone wishing to attend the lecture only is welcome at no cost.
---
Reservations: The preferred way to make reservations is simply to email Willie Lee at lee@usgs.gov, tell him you will attend, commit to pay, and bring your payment to the meeting. A check made to "PGS" is preferred.

Exploring the Highest Sierra is a popular introduction to one of the most magnificent regions of the American West, detailing the geology and early exploration of the highest part of California's Sierra Nevada. It is also a guide for visitors to Sequoia and Kings Canyon National Parks, with abundant maps, photographs, and geologic road and trail guides that clearly explain the formation of the awesome natural features before them.

During the Civil War the first scientific party that attempted a reconnaissance map of the region discovered, in the process, that it included the highest mountain then in the United States, Mount Whitney. The book describes the arduous travels of the early explorers, including John C. Fremont and John Muir, and weaves the history of exploration together with modern geologic concepts to show the early naturalists' contributions to geologic thought. Throughout, all terms that may be unfamiliar to nonspecialists are simply defined, and the book is richly punctuated with anecdotes, tales, and biographical sketches of colorful characters associated with the region.

The book is illustrated with 224 early etchings and maps, modern photographs and diagrams, including 44 maps that incorporate 12 historical charts dating back to the earliest explorations. A series of 15 color maps of the region encompassing the parks, all at the same scale, feature such diverse aspects as the trails pioneered by John Muir, the extent of glacial ice during the Ice Age, and the location of geologic faults and earthquake epicenters. Geologic guides for the regions principal roads and trails (including the southern half of the John Muir Trail) define the mileage of all lookouts and points of interest so that the visitor can examine the described features at first hand.
About the Speaker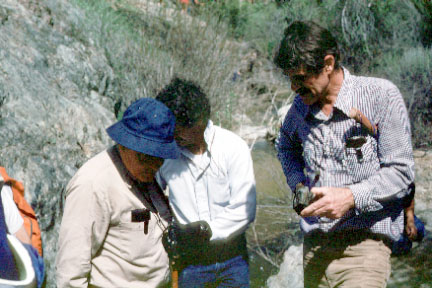 Jim Moore (right) and Warren Hamilton (left) in the southern Sierra Nevada, 1986. Photograph by Mike Diggles
James G. Moore is a Senior Research Geologist Emeritus with the U.S. Geological Survey in Menlo Park, California. He is the coauthor (with Robert D. Ballard) of Photographic Atlas of the Mid-Atlantic Ridge Rift Valley.
U.S. Geological Survey Open House, May 12 and 13
CLICK HERE to see the Web page for the U.S. Geological Survey's Open House at the Menlo Park campus. These events take place only every three years so you don't want to miss this. Mike Diggles will be presenting on digital publications (DVD-ROM, DVD-ROM, and such) and is working on getting a "Diggles Donuts" space set up away from the crowds on a light table for Explorers Club members.
No Guts, No Glory: Stanford Alpine Club, May 13
The Stanford Alpine Club was formed in 1947 by students at Stanford University. Its members practiced rockclimbing skills in Peninsula venues, then trained on the cliffs of Yosemite, making first ascents of many well-known climbs. The SAC climbers then went on to the Canadian Rockies, Alaska Range, the Alps, the Cordilleras in South America, and the Himalaya. A newly published book by John Rawlings, "The Stanford Alpine Club", tells the history of the club.

Two of the Stanford Alpine Club members belong to The Explorers Club, Northern California Chapter: Nick Clinch and Betsy Crowder.

No Guts, No Glory, an Exhibit of the History of the Stanford Alpine Club opens May 13th at 1:00 PM in the Green Library at Stanford. Four prominent mountaineers, SAC members, will present lectures and films from 3:00 to 10:00 PM in Cubberley Auditorium at Stanford. Presenters are Dave Harrah, Nick Clinch, Irene Beardsley, and Tom Frost.

For more information, contact John Rawlings (650) 723-3101 or Betsy Crowder (650) 851-0410.
Report from Explorers Club Chapter Chairs Meeting and Annual Dinner (ECAD) in NYC, March 24 and 25, 2000
By Bill Isherwood, FN-70, Chapter Chair

Northern California Chapter members attending:

Mort Beebe FN-78

Danielle Beebe Chanavon

Charley Brush MED-50

Sylvia Earle HON-81 (newly elected to the EC Board of Directors)

Lesley Ewing FN-93

Bill Isherwood FN-70

Dana Isherwood
Greg Miller MN-96

Lesley Ewing and I attended the meeting of Chapter officers on Friday before the ECAD, which is perhaps best remembered for the opportunity to meet and exchange ideas with other chapter officers. Major topic of discussion included how to attract and keep younger members, use of electronic media - especially web sites, and fund raising for chapters and the Club in general. It was also a time to get briefed on a variety of issues by our Club officers and to hear about the types of activities occurring at other chapters.

Some items of special note include the increasing use of web sites within the Chapters (for which there was unanimous agreement that our own Mike Diggles deserved much credit for assistance given. The New England Chapter has gone so far as to announce discontinuance of their paper newsletter, to be replaced by electronic only. A later report suggests that this is overstated - but the electronic revolution is coming (they still send out paper announcements for all events). Several chapters, for security reasons, only post a general announcement for the meetings and not the location.

As for encouraging younger members, there has been discussion within the Board of Directors to adjust the dues structure to provide for reduced fees for those under 35. This would go along with the little used provision already in effect to forgo initiation fees for new Fellows who are under 35. Beyond the dues structure, there was some discussion on encouraging lower cost Chapter events, and activities of particular interest to new members.

Chapter finances did not receive a great deal of discussion, but it was clear that some chapters have not struggled to make ends meet, as have we. Clearly, there are ways we can help ourselves that we have not fully explored. For example, chapters that solicit ads for the Explorers Journal will receive 15% of the revenue generated. (Advertising rates are very reasonable, e.g., $2450 for a full page color ad.) Our chapter also benefits by receiving a portion of the initiation fee paid by new members sponsored by members of our Chapter. Some chapters charge individual dues to support their expenses: the New England Chapter just raised its annual dues to $35.

The Texas Chapter has planned a TCAD, to be held on May 20-21, which is a fund-raiser for the Club's Youth Activities Fund. Strong corporate and patron sponsorship has helped make this possible. For more information, contact Co-Chair, Catherine Nixon Cooke: (210) 826-5577 (fax); email: ccooke@mindscience.org.

Faanya Rose gave an impassioned presentation over the reasons to support the Lowell Thomas Building Endowment Fund - not the least of which is that the building is in dire need of major repairs. We were each given a short video about the building and the fund raising effort, which can be borrowed by anyone interested. (Call Bill or Lesley to get a copy.)

The Chair of the India Chapter talked about his efforts to recruit new members and made a gentle request to the New York membership committee to give a great deal of weight to the opinion of the chapter. He was concerned that the chapter often did not hear about new members for quite a while.

Jonathan Conrad talked about the efforts to protect the name "The Explorers Club." The name has been registered in the US for many years and recently was registered with the European Union. It is a violation of some copyright or patent laws to use the name or seal without permission from the club. Disney has an "Explorers Club" at one of its theme parks, but also has a plaque in the entranceway announcing that it is not associated with the club.

Friday evening was the Chapters dinner, where all of the day's discussions were continued over wine, dinner and entertainment. This was one of the best opportunities to socialize with other out-of-towners, and discuss actual exploration. Fred McLaren, as the out-going president, was given a replica of one of the Chinese warriors. The head is removable and people joked that Fred could leave it at the Lowell Thomas Building and staff could change heads to match the current president.

Of course the Big Event Saturday night was full of glitter and pizzazz, but frankly, I think our own Golden GateAways werejust as much fun.

It was good to get to an ECAD event, my first, and I encourage more of you to join us next year. Feel free to contact either Lesley or myself for more detailed information about the ECAD weekend.

The newly elected Board of Directors convened Sunday morning, at which point the new slate of officers was elected.
New Club Officers:
Faanya Rose MI-94, President

Alfred McLaren FN-71, Vice President, Chapters

Richard Wiese MR-89, Vice President, Membership

Kenneth Kamler FR-84, Vice President, Research & Education

Jonathan Conrad MR-87, Secretary

Holly Williams , Assistant Secretary

Ira Haupt II MR-81 , Treasurer

George Gowen , Assistant Treasurer
Bicycling Across America
Last summer, Liz McLoughlin rode her bicycle across the United States! She will share some slides with us before Dr. Leskov's presentation at the April meeting. The show is designed to minimize explanations and to focus on the enormous diversity of images from this vast country that she saw from the pavement up.
Ramblings and Explorations
Mark Moffett has been exploring the 60 meter-tall Alerce trees in Chile, and working with Charlie Bower in Venezuela, where they found new species of ferns. He has an article in the Smithsonian on an expedition to Iran. We'd like to hear more about all of these treks.

Nonna Cheatham's guest Judd Howell works for the U.S. Geological Survey in Sacramento doing environmental research; he helped establish tule elk in the Golden Gate National Recreation Area.

Charles and Louise Geraci attended our meeting on their way home from Bend, Oregon.

Jerry Hughes is looking for volunteers to work on the icebreaker Glacier, which is in Suisun Bay's mothball fleet. (see piece in last month's newsletter)

Alan Hutchison's guests, Jo Ann and Maurice Knox, have just returned from a trip visiting archeological sites around the world, from London to Hong Kong.

Milton and Michele Matter have been in Ecuador.

Lee Langen got back a month ago from Palenque, where he has been helping Merle Robertson excavate Temple 19, which dates from 737AD.

Tom Hall and Liz McLaughlin are leaving in May for nine weeks as captain and crew taking a Krogen 42 trawler up the inside passage from Anacortes, Washington to Alaska. Liz is back from India, where she attended an Injury Control conference. She was impressed by the conference organizers' ability to organize local transport: 200 pedicabs, their pedalers all wearing yellow Conference shirts and hats, stood ready to ferry the conferees about town.

Ron Reuther quartered the area between Marin County and Monterey in the course of collecting paintings that Dave McElhatton was sending to the Aviation Museum in Oakland.

Meanwhile, Joe Rychetnik and Stephanie Klein of Point Richmond accepted the challenge of attending The Explorers Club meeting being held eight miles from home.

Sue Estey and Tom Patterson took a master class from the legendary British sea kayaker, Derek Hutchinson.

David Graber (DnJGraber@aol.com) has relocated to Christchurch, New Zealand for two years, where he will act as an emergency medicine consultant at the busiest emergency department in all of Australasia. He hopes to spend some time studying some of the rarer remaining native birds far to the south, on Stewart Island.

Dana Isherwood will soon be on skis heading for the magnetic North pole. The group will leave from Resolute, heading across Bathurst Island, a sanctuary for polar bears and musk ox. She assures me that the sled dogs pulling the gear will be safe because there are plenty of tasty seals, and the party will be carrying rifles. Her website (http://home.earthlink.net/~dana1/) has links to the Children's Museum in Indianapolis and the Wintergreen Dog Sledding Company, both of which will carry news of the expedition.

Lesley Ewing brought a copy of her first international publication; it is in Japanese, which leads to her interest in finding a friendly translator so she may be reassured that it still says exactly what she remembers writing about coastal erosion.

Title page of Lesley's paper

Illustration of coastal-erosion risks
Where in the world is Mason Beckley?
He came to the GateAway in 1998, bid and purchased a trip from Mountain travel, and has never been heard of since. At least, the trip has not been claimed.
PRESS RELEASE
Polar Expedition Team Includes Orinda resident Dana Isherwood
From: Dana Isherwood
Subject: Heading North
Dear Friends: This Friday, I head north to the Canadian Arctic on a 250-300 miles ski/dogsled trip to the magnetic North Pole. I will be home May 14 if all goes well. The following press release was sent out to the home town newspapers for each participant. It tells you most of what you want to know about this trip (maybe even too much). Please send warm thoughts and visit my WWW site at http://home.earthlink.net/~dana1/ to find links to the two web sites that will have frequent updates on our progress north. You can also find those sites by going direct to http://www.xdogs.com (look for us under "events") or go direct to http://www.childrensmuseum.org/cosmicquest/magpole/index.html. The Childrens Museum promises daily updates and will provide school children with an opportunity to ask us questions via a satellite email link. As our leader, Paul Schurke, tells us "think cold, act warmly". Cheers, Dana
PRESS RELEASE
Polar Expedition Team Includes Orinda resident Dana Isherwood
Orinda resident, Dana Isherwood, is among a team of 12 adventurers from the US and Great Britain that departs April 21 for a 3-week dogsled and ski traverse across the new Canadian territory of Nunavut to reach the magnetic North Pole. Led by arctic adventurer, Paul Schurke, Ely, MN, the team will trek nearly 300 miles northwards from Resolute Bay, Canada's northernmost supply depot, to reach the tip of Ellef Ringnes Island where the magnetic North Pole currently resides. Their route will take the team of 4 women and 8 men and their 18 Inuit sled dogs across Bathurst Island, site of Polar Bear Pass Arctic Wildlife Refuge and a proposed new national park, and then on across 70 miles of the frozen ocean in MacLean Strait before reaching the Sverdrup Island chain that marks Canada's northwesternmost corner.
Isherwood has extensive Arctic and Antarctic experience as a geologist and mountaineer. She trained for this trip climbing in the Antarctic and ski touring in the Sierras. Isherwood states, "I am new to the art of dogsledding, but I have a fascination for polar regions and I couldn't pass up an opportunity for a new challenge". Isherwood's assigned work chores on the trip include helping with the dogs and assisting with the cooking. Isherwood is retired from Lawrence Livermore National Laboratory in Livermore.
"Although this trek is largely an expedition opportunity for serious arctic enthusiasts, several associated projects will extend its impact to many other people," said team leader Schurke who operates Wintergreen Dogsled Lodge and has led five treks to the geographic North Pole. Two websites will track the team's progress with daily updates. The educational site, sponsored by the Indianapolis Children's Museum at http://www.childrensmuseum.org includes science projects for kids related to snow and ice. The second site is a commercial one at http://www.xdogs.com that will also offer information about other expeditions, adventurers and outdoor gear. The team will field questions about their trek from followers of their web sites via a new global email transceiver. Information about dogsledding and the pure-bred Inuit dogs used on this trek can be found on Schurke's website at http://www.dogsledding.com. The trek will also serve as a fundraiser through pledges that team members have secured for several charities. These include the Indianapolis Children's Museum, Riley's Children Hospital (Indianapolis) and the Mountbatten Community Trust (Great Britain). The team will also be collecting ice samples and data for a study on the stratification of sea ice by the U.S. Army's Cold Region Laboratories.
The first phase of the trek --traversing Bathurst Island and documenting wildlife sightings across this proposed national park site-- will be completed by May 2. The second phase will bring the team into the region of the magnetic North Pole --where a compass points down directly into the ground-- by May 12. When travelling on the frozen ocean out of sight of land, team member Jeff Ward will employ a traditional means --celestial navigation with a sextant-- to help plot the team's route.
While the geographic North Pole is the point where the world turns, the magnetic North Pole relates to a force field in the earth's crust emanating from the earth's core. When first discovered 170 years ago, the magnetic North Pole lay near Hudson Bay. It has since drifted northwards about 6 miles per year and is now just 700 miles from the geographic Pole. It lies within the new Canadian territory of Nunavut which was established just one year ago in conjunction with a landmark native land claims settlement that turned over a portion of the Canadian north nearly the size of Alaska to the local people (mostly Inuit) for their own territorial administration.
"The magnetic North Pole is a common bond among explorers," said Schurke. "Ever since the compass was invented nearly a 1000 years ago, explorers who have traveled the high seas, the great deserts, the Arctic tundra or deep forests have all relied on the magnetic pole to find their way. Marco Polo, Magellan, Henry Hudson, Lewis and Clark, Robert Peary all explored different parts of the planet at different times in history. But all were linked by their reliance on the magnetic North Pole."
Dinner Reservations
Alexander Leskov's talk will be on Friday, April 28, 2000 in San Francisco. Sinbad's is on the SF Waterfront -- Pier 2, just south of Market Street and the ferry building. They have free validated parking, but the valets appreciate a gratuity. Costs: $45 per person, with a $5 later charge for reservations made after April 18, 2000. Call Lesley Ewing if you mail your check after the due date so she can plan for you.

Sinbad's offers us choices for dinner. The choices are Salmon Florentine (salmon filet on a bed of spinach with sun dreid tomatoes and caper sauce Chicken (oven baked free range lemon herb) Pacific Red Snapper (blackened Cajun style) London Broil (sliced with sauteed mushrooms, teriyaki sauce on the side and our Chef's Special potato) Shrimp Louie Salad served with a cup of chowder

Please make your payment to:

Lesley Ewing
1679 Tacoma Avenue
Berkeley, CA 94707
510-527-7899
email to Lesley

Date created: 04/04/1999
Last modified: 01/20/2002

Content from Sue Estey, Secretary, Northern California Chapter of The Explorers Club; email to Sue
Web page by: Mike Diggles, Webmaster. email to Mike


c/o U.S. Geological Survey, MS-951, 345 Middlefield Road, Menlo Park, CA 94025. (650) 329-5404

Back to The Explorers Club, Northern California Chapter Home Page